Mona Hedayati »Breathless« | Final View
Invitation to the opening of »Final View« on Thursday, June 22, from 7 pm
During her residency from May 10 to June 27, Hedayati collaborated with hessian.AI to develop a techno-artistic machine learning strategy to evaluate a database of her own biological signals and breathing patterns and make them experiential as a dynamic sound piece. Iranian-Canadian artist Mona Hedayati's interdisciplinary research practice draws on computer art, posthumanism, sound design, and affect studies, the study of emotional responses to real events and structures. Her research moves within the field of Science & Technology Studies (STS), which is used to redefine the relationship between science, technology, and society.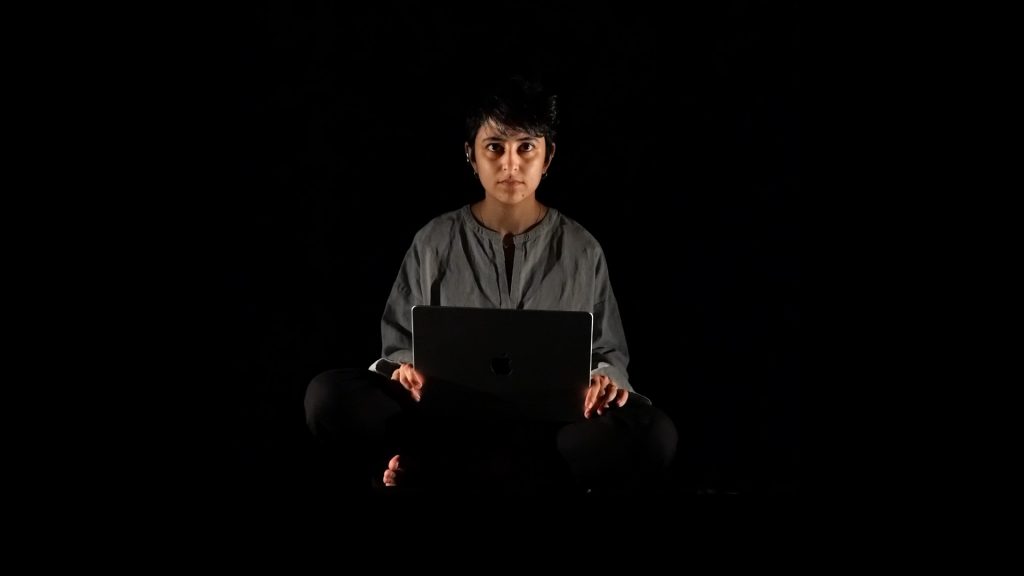 »Breathless« | Artist-in-Science-Residence
In her current work "Breathless" Hedayati focuses on the affective mediation of complex experiences such as that of her exile. For this, she constructs sonic-performative spaces in which the traces for a deeper understanding of such experiences are laid via a sensory experience. A database of her own biological signals and breathing patterns, triggered by her engagement with audiovisual material of personally relevant traumatic events of socio-political oppression, serves as a foundation. The goal of her residency is to develop new experimental working methods that productively bring together art and AI.
In collaboration with hessian.AI, Mona Hedayati aims to develop a machine learning strategy to capture her durational database as an agile encyclopedic entity capable of dynamically representing itself. Their core question is whether and how a common language can be developed that multidirectionally mediates between problem-oriented discourses in the social sciences and humanities, contemporary art, and the rhetoric of pragmatism, scientific objectivity, and innovative progress. hessian.AI, the Hessian Center for Artificial Intelligence founded in 2020, is a unique cross-university and cross-academic network of 13 Hessian universities. Hessian.AI researches novel AI systems that have mature human-like thinking and communication capabilities and that can be classified as belonging to the so-called Third Wave of AI.
Opening on Thursday, June 22, starting from 7 pm
Atelierhaus LEW1, Ludwig-Engel-Weg 1, Darmstadt
The exhibition at LEW1 will be open from June 23 to 25, 11 am to 7 pm each day.
"In keeping with my hyphenated identity, my work engages with hybrid West-East perspectives: on the one hand, I […] think about the embeddedness of technology in our social realities [which] I frame by considering humans and machines as active recognizers and emergent ecologies […] constantly renewing themselves through shifting agencies and leaky borders. On the other hand, as a migrant from the Middle East, I understand my work as a socio-political intervention that utilizes the coupling of humans and machines to compose dynamic atmospheric interactions. I am honored to have been selected as the Artist-in-Science Residence fellow working with the Hessian Center for Artificial Intelligence to raise awareness of persistent sociopolitical injustices."

Mona Hedayati
"hessian.AI explores the third wave of AI: machines that can recognize even when they know nothing at the current moment and cannot draw conclusions. This makes lifelong learning – analogous to us humans – all the more important in order to deal with new situations. Added to this is the recognition and handling of human emotions by AI to improve interaction between humans and machines. Mona Hedayati addresses both aspects in her project in a unique artistic way."

Dr. Wolfgang Stille,
CTO hessian.AI